It's been a bit of a long April with tons of talks and events (particularly in the last week, where I was invited to speak at The Impact of Civic Technology 2016 Conference; you can find my presentation here). Thus, Games for Studies has been neglected. Since it has been almost one month since the last post, I thought it might be worth recapping what has changed in that time.
(Note: I will also be using the handle "#ProjectFilter" on Twitter! If you feel like taking part in the discussion, please feel free to Tweet me!)
What's New?
I wanted to focus on atmospheric development over the last month, and so a majority of this update will revolve around the aesthetic presentation of Project:Filter. I've shaken off the cobwebs that is my 3D modelling skills (keeping things simple for the moment...) and, even from a preliminary addition of simple models, the game feels like it's coming to life a bit more. See for yourself:
Aesthetic
Most obviously, gone are the days of eternal darkness! Some life has been added to the game's stage with the addition of a pipe environment: dark, dingy, and a sense of claustrophobia with the narrow, curved base. I find it complimentary of the brightness of the player, which is followed by a searchlight of sorts to give the illusion that the player is being followed ("under the microscope" by scientists trying to identify what this mysterious pollutant is...) There's also the addition of a particle effect attached to the camera, which projects large, slow-moving particles across the screen that oscillate between teal and cobalt. This aims to simulate an underwater effect without the player's vision being obstructed or manipulated by a fancy wave-like system (I think a real-world underwater effect may prove to be too infuriating to the already-challenging perspective presented).
Perspective
Speaking of perspective, there is a noticeable difference to the positioning of the camera from both images. The decision was made to change from a 60-degree camera angle to an offset, 30-degree perspective. I fought back and forth about using a particular camera angle (even side-on isometric was considered) before I settled on this, and it's mainly to do with the player's positioning and the position of spawned objects. I just feel this angle opens up more of the stage: it shows the players what's in front and gives a better perspective of spaces in the walls to fit through.
Even in spite of the camera perspective, there's still a challenge with verticality. Questions I was faced with included "Which 'level' is the player on?" and "How do they know?" So I implemented a traffic light system to show the relationship between verticality, positioning, and the opportunity to collect similar-coloured pick-ups. Rather than have the player racing for a pick up only to find that it's on a different level ("move into position > attempt to collect > scratch head"), the player can anticipate to follow a different order of thought ("change to corresponding colour > move into position > collect"). Thus, the challenge of position is down to the player's skill as opposed to prediction. (traffic light system, simulated searchlight)
Context
Additionally, the context of play has been expanded upon with the inclusion of anecdotes. These symbolise the player's progression through the game: once players reach a certain number of points (based on duration and additional pick-ups collected), they receive a message. Players' reward for scoring high is the knowledge that their actions are "doing something" (in a figurative world): the reflection is that, because the pollutant exists in the waters for a longer period of time, and collects similar objects, it is becoming more potent and causing more harm to the environment, reflected in the dialogue shown to the player:
The anecdotes are divided by the type of impact that micropollution can have: environmental, filtration methods, regional systems, and public knowledge. Each anecdote is intended to follow a humorous tone, but reflect real-world challenges faced in the environmental and social health sectors. It's hoped that players develop a consciousness and sympathise for these scenarios as a nudge to taking action against these outcomes.
Next Steps
There is a good number of refinements that I would like to make to Project:Filter, however I don't see many changes as needing immediate attention. Project:Filter is at a stage where I am happy to receive some initial user feedback. I will be setting the game up at the Kelvingrove Art Gallery and Museum between the 11th-12th June at the Kelvingrove Art Gallery as part of the Glasgow Science Festival. Alongside this, I will have a few other games made as part of the wider noPILLS research project: Sewer Sweeper and Polluted.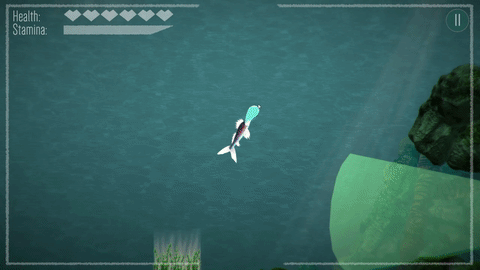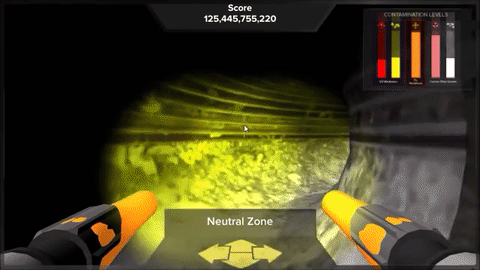 If you want to find out more and try the games for yourself, come along during these dates and find the stall!
STILL TO DO:
Address the scoring system: save and display high scores to add a meta-competitiveness to the game; define the most functional and vivid method of depicting points (with influences such as Alto's Adventure and Jetpack Joyride); question whether points are even necessary to the player's experience..?
Set up networking so that wall creation can be done via tablets and instantiated to the world in real-time (although, over the course of development, this has become less of a priority as the game may work as appropriately as a local-hosted game played between two players.)
Updates to fonts, and UI composition may be reconsidered based on player feedback (and creating a "Breaking News!" scrolling text feature at the bottom to cycle through the player's achieved news to allow a period of reflection on their achievement and consequential actions.)